Welcome to Week 5 of
Cowgirl Up! Link Party . . .
the party with a cowgirl can-do spirit!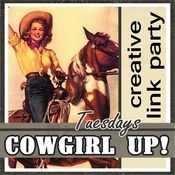 Hey Y'all! This is Amanda from The Ivy Cottage Blog. Great job last week! We had over 140 link ups! Whoa!
This week as I was browsing all of your lovely links, I found myself drawn to spring color. Little green shoots are starting to appear here in Texas and pretty soon we will be surrounded by Spring. In anticipation, I have already planted my Mexican daisies in the front garden. The
y will bloom loads of violet and white throughout the summer.
Anyway, the Cowgirl Up! girls and I want to thank you so much for your overwhelming support of our link party. We want to encourage you to invite others to participate. The more we have linking up, the better traffic you will get coming to your blog!
Enjoy these Spring inspired featured links!
If you were featured here, grab a Featured button. Be sure to like our Facebook pages, since we also post many other favorites there too. If you got featured on Facebook, then feel free to grab a featured button also.